Green Party launches ambition for a Green on every council
5 April 2018
* Green Party launches strongest ever local election campaign standing candidates in 2200 seats
* Party stands record number of candidates since these seats were last contested
* Jonathan Bartley: "One more Labour or Tory councillor won't make a difference. But one Green could change everything."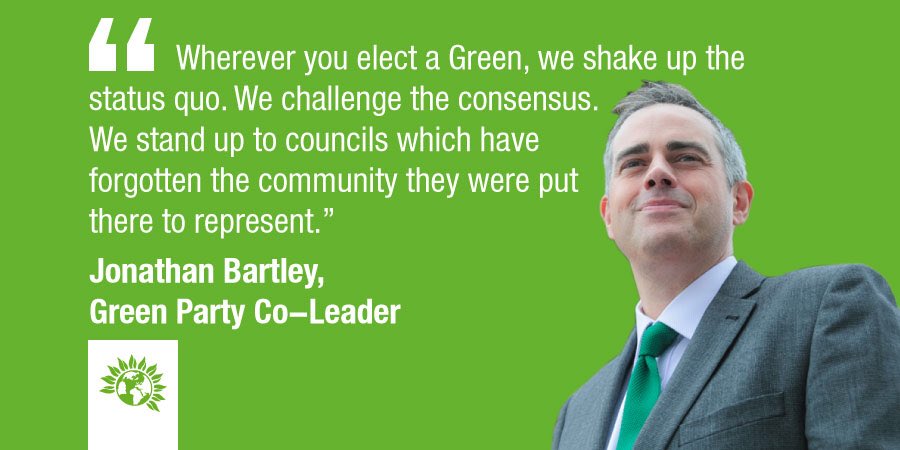 The Green Party launched its strongest ever local election campaign on Thursday 5 April with hopes of electing Greens on more local authorities than ever before as the party works towards having a Green on every council.
Greens are contesting 2200 seats on May 3, more than half seats up for election. The party is standing a record number of candidates since these seats were last contested, and the most candidates ever in London.
Jonathan Bartley, co-leader of the Green Party, asked to voters to choose a Green to stand up for their community instead of adding "one more Labour or Tory to already complacent councils."
Bartley also highlighted the impact Green councillors across Britain have when they are elected, as in Sheffield where Alison Teal has stood with residents against the felling of healthy street trees after the council gave a £2 billion highway maintenance contract to a private company.
The launch took place in Central Hill estate in London which is facing demolition by Lambeth Council. Green Councillor Scott Ainslie has stood with residents opposing the demolition and the Green Party is hopeful to make gains in Central Hill in May.
Jonathan Bartley, co-leader of the Green Party, said:
"The Green Party wants to see a Green on every council to build a better Britain from the bottom up.
"Across the country councils have forgotten the people they are meant to serve. From Lambeth council planning to demolish residents homes to Sheffield sacrificing the natural environment to private contracts, one party state councils are riding roughshod over the wishes of their communities.
"In these local elections people have the choice to add one more Labour or Tory councillor to already complacent councils – or choose a Green who can change everything.
"Greens will always be a bold, brave voice standing up for local communities and challenging the status quo. One Green has the power to transform a community."
Green Candidates for West Oxfordshire District Council Election, 3 May 2018
Standlake, Aston and Stanton Harcourt – Alma Tumilowicz
I spent the early part of my life in Manchester, trained to teach in Hertfordshire and then worked as a film editor, mainly for the BBC and ITV. While working on a documentary series called 'Eco' at Central TV in Birmingham, I became interested in environmental issues. After acquiring a degree from Manchester University, I moved to West Oxfordshire in 1991 to raise a family. I joined the Green Party in 2010 because of the party's holistic approach to society and the environment. Research shows that a more equal society is a fairer and happier one. The only political party committed to this aim is the Green Party.
Eynsham and Cassington – Helen Gavin

Helen is an environment scientist by training and works in the water industry.  She is committed to seeking suitable solutions for everyday issues, solutions that benefit both people and the environment. Often the solutions that are good for people are also the ones that are good for the planet.  Home insulation, for example, would help reduce fuel poverty as homes would be warmer without needing to use as much gas or electricity. Home insulation would create jobs, and result in fewer greenhouse gas emissions!  Helen is active in the community, raising awareness of issues and helping others. She is also a Home Library Volunteer.
Freeland and Hanborough – Andy Wright
I am Andy Wright, I live in Leafield and serve on the parish council. I joined the Green party when my first grandchild was born. I was concerned that the world she would grow up in would not be fit for purpose. When I was born, there were 2.5 billion people on this planet: today there are 7.5 billion. There were a few million cars: today there are 2 billion. Today, the 6 richest people in the world have the same amount of wealth as the poorest 50%. I joined the Green Party because it is the only worldwide party with clear goals to create a more sustainable and equal world.
Witney East – Stuart Macdonald
Stuart Macdonald has lived in Witney for over 20 years. He is married with four children and involved with a range of local causes, including Fairtrade, the food bank and the WOT campaign to improve transport between the Witney area and Oxford. Stuart stood as Green parliamentary candidate for the Witney constituency in 2010 and 2015. He believes that inequality is at the heart of our current difficulties: in a divided society problems are shifted onto others rather than solved. Stuart works as a professor and union representative in a management school, persuading university students that they are being educated not to be paid more, but to contribute more to society.
Ascott and Shipton – Celia Kerslake
I am a retired academic involved in Turkish studies. I taught at Oxford University for many years and am continuing to do research on modern Turkish literature. I have lived in West Oxfordshire since 1988 and been an active member of the West Oxfordshire Green Party since 2010. I joined the Green Party because I found it to be the only UK party that has a convincing and comprehensive political philosophy which puts the well-being of the whole world at its heart. For me, the Green Party stands for protecting and sharing all the good things that our planet offers us. I love the fact that Greens' sense of justice and compassion applies to farmers in Africa threatened by climate change, land grabs or exploitative trade agreements just as much as to our local community in West Oxfordshire that needs decent housing and good social care.
Carterton South – Andy King
After a fun but wholly unrenumerative career as a wannabe rock star, I now work part-time as a medieval historian at Southampton University. I live in Witney with my partner, Claire, who works at the Oxford English Dictionary, and I have two children. I am standing for the Green Party because I believe our policies offer some hope for a fair and sustainable lifestyle, with an economy run for the benefit of all rather than for the privileged few. I fear the savage cutting of local government services will degrade the quality of life in Witney, and these cuts must be opposed.
Woodstock and Bladon – Mathew Parkinson
I have lived in and around Woodstock for nearly 30 years now, from attending the Marlborough School to working as a chef in one of the town's busiest pubs. Environmental issues are now the main focus of politics and indeed life in general. The Green Party is at the forefront of sustainability. I joined because I want to prove that the Greens are not just about nature protection, but are a serious contender in all aspects of politics.
Bampton and Clanfield – Harriet Kopinska
I am standing in Bampton because I feel it is essential the major parties realise how concerned the public are about environmental issues. I am a tutor in environmental sciences, helping to increase knowledge around why environmental protection and social justice are so essential   I have two children and I really worry about their health and opportunities in the future.
Witney South – Rae Cather
Rae is married and has lived in Witney since 1984 when she came to the area to teach young children with special needs. Over the years she has become actively involved in a number of local activities and coordinates a fair trade not for profit group which supports Palestinian farmers.
Rae first joined The Green Party in 2002 and has continuously supported the values of the Party both locally and nationally because we need a more compassionate society in order to make heartfelt changes. However, we need to set our sights higher and deeper to create a more fair, healthy and sustainable world.
Rae has long admired and supported The Green Party leadership for its relentless resistance locally, nationally and globally to organisations which attempt to destabilise our climate and social values. She is committed to working with WASP, the Windrush Against Sewage Project so that we can return to having confidence in enjoying the benefits of a clean local river in West Oxfordshire.